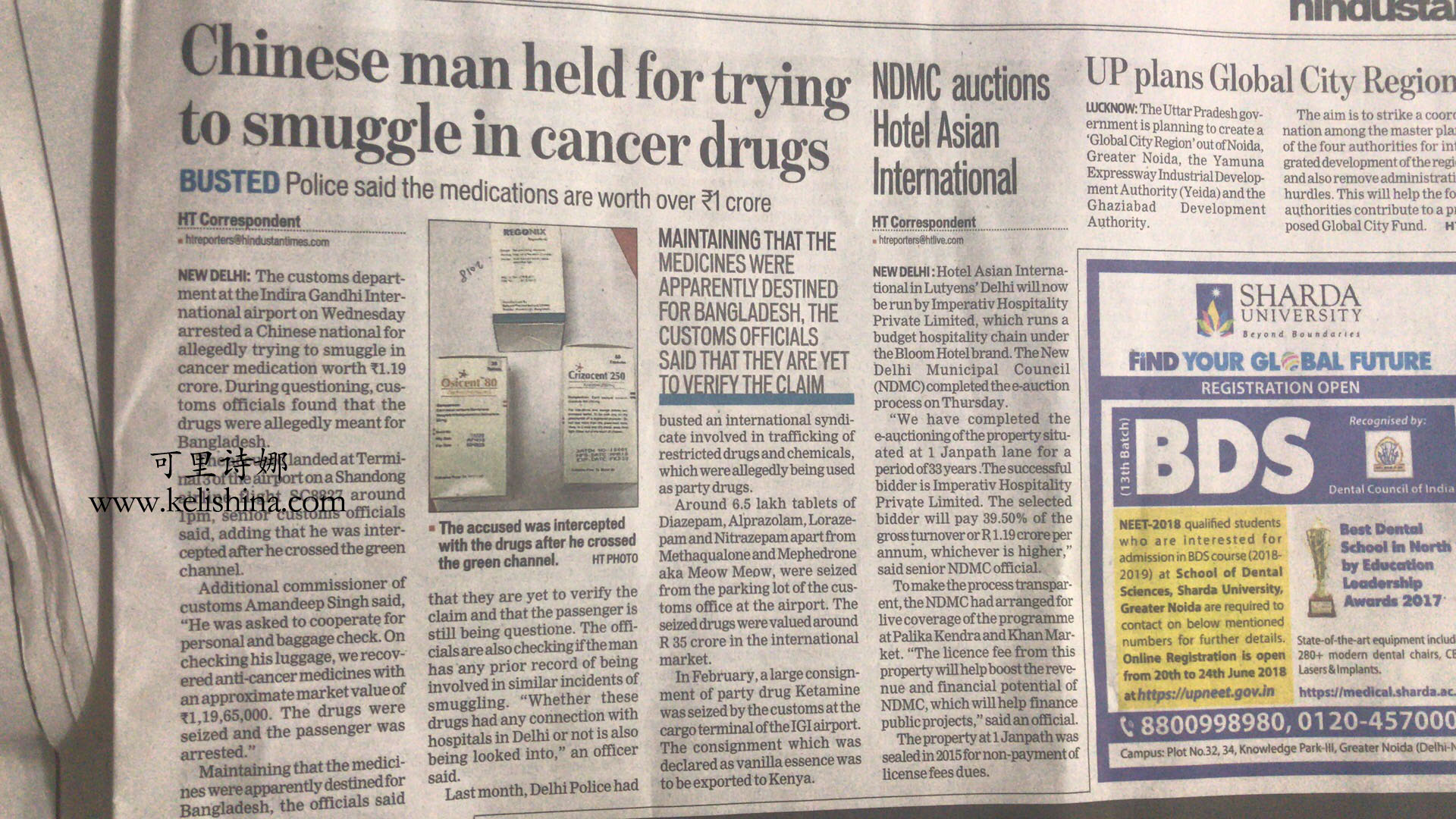 Chinese man held for trying to smuggle incancer drugs
New delhi:The customs department at theIndira Gandhi International airport on Wednesday arrested a Chinese nationalfor allegedly trying to smuggle in cancer medication worth 1.19 crore. duringquestioning, customs officials found that the drugs were allegedly meant for Bangladesh.
The accused landed at Terminal 3 of theairport on a Shandong airline flight SC8827 around 1pm, senior customsofficials said ,adding that he was intercepted after he crossed the greenchannel.
Additional commissioner of customs Amandeepsigh said,"He was asked to coorperate for personal and baggage check. Onchecking his luggage, we recovered anti-cancer medicines with an approximatemarted value of 1,1965,000.The drugs were seized and the passenger was arrested.
Maintaining that the medicines were apparentlydestined for Bangladesh, the officials said that they are Yet to verify theclaim and that the passenger is still being questione. The officials are alsochecking if the man has any prior record of being involved in similar incidentsof smuggling. "whether these drugs had any connection with hospitals in Delhior not is also being looked into," an officer said.
Last month, Delhi police had busted aninternational syndicate involved in trafficking of restricted drugs and chemicals,which were allegedly being used as party drugs
Around 6.5 lakh tablets of Diazeoam,Alprazolam,Lorazepamand Nitrazepam apart from Methaqualone and Mephedrone aka meow meow, were seizedfrom the parking lot of the customs office at the airport.The seized drugs werevalued around 35 crore in the international market.
In February, a large consignment of party drugKetamine was seized by the customs at the cargo termial of the IGI airport.Theconsignment which was declared as vanilla essence was to be exported to Kenya
新德里:星期三英迪拉甘地国际机场(到达)的海关部门逮捕了一名中国国民,据称他试图走私价值1196.5万卢比(约合119.65万人民币)的癌症药物。在询问期间,海关官员发现这些毒品据称是产自孟加拉国的。
被告人在下午1点左右乘坐山东航空SC8827航班在机场3号航站楼降落,高级海关官员说,他在越过绿色通道后被截获。
海关官员Amandeep叹了口气说:"他被要求协助进行个人行李检查。在检查他的行李时,我们查到了抗癌药物,其价值约为119.65万。药品被查获,乘客被捕。
这些官员表示,这些药品显然是产自孟加拉的,他们还没有核实这一说法,而且这名乘客还在被质疑。官员们还在检查这名男子是否有任何先前涉及类似走私事件的记录。 "这些药物是否与德里的医院有任何关系也正在研究,"一名官员说。
上个月,德里警方捣毁了一个涉嫌贩运限制毒品和化学品的国际集团,据称这些集团被用作党派药物
国际市场上检获的毒品价值约为35亿卢比,其中约6.5万卢比的Diazeoam,Alprazolam,劳拉西泮和硝西泮片剂除Methaqualone和Mephedrone(又名喵喵)之外,都在机场海关停车场被查获。
今年2月,海关在IGI机场的货物处所扣押了一批大量的派对毒品氯胺酮。被宣布为香草香精的货物将被运往肯尼亚
转自:hindustantimes